Be a Part of History!
The perfect Christmas gift for that deplorable in your family.
Or order The official ACRP Trump Rally Tshirt in time for Inauguration Day!
Order online using paypal or send an email to chairman@ashtabulagop.com along with how many shirts you would like to order along with sizes. You will be contacted when tshirts are delivered.
$15 donation
USE ORDER FORM BELOW TO PLACE YOUR ORDER ONLINE (If you are ordering more than one tshirt use the "Continue shopping" tab in upper right hand corner of shopping cart to add more.)
****NOTE**** ANY ORDERS MADE AFTER 12/14/2016 MADE ONLINE WE WILL CONTACT YOU FOR A DATE AND TIME WE WILL BE AT THE ASHTABULA COUNTY REPUBLICAN HEADQUARTERS SO YOU CAN PICK UP YOUR SHIRTS.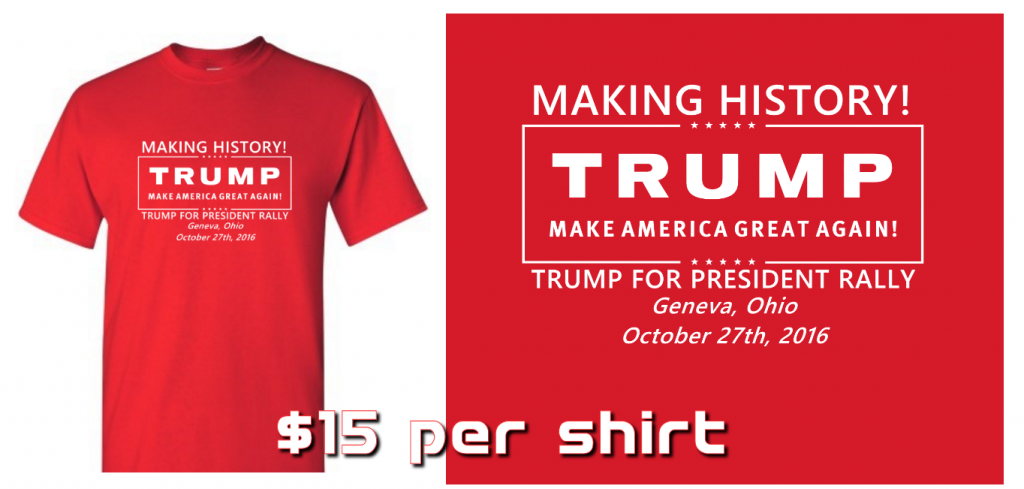 (If you are ordering more than one tshirt use the "Continue shopping" tab in upper right hand corner of shopping cart to add more.)