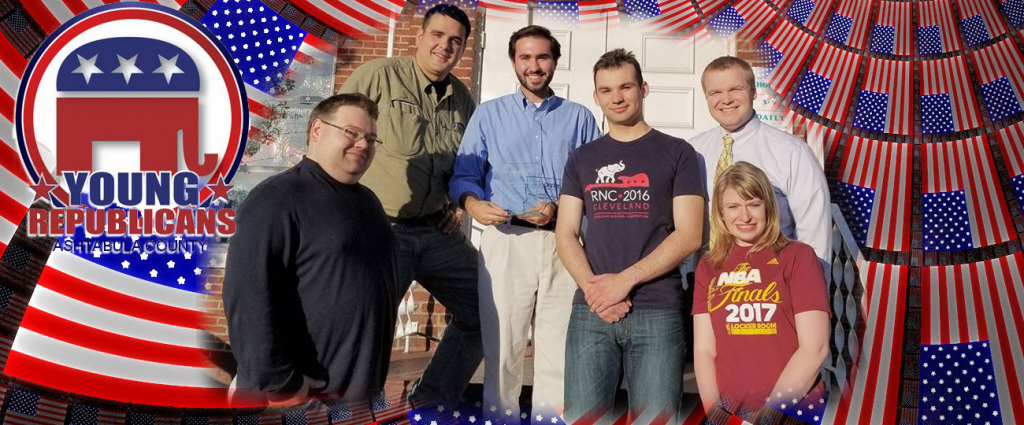 The Ashtabula County Young Republicans have elected new officers for 2016. From left: Jason Keeler, Christina Wilkinson, David Thomas, Charlotte Pasco and Mark Stanford.
"We are a group of ordinary, likeminded students, citizens and young professionals effecting extraordinary changes in our community"
Memberships are available for all ages.
Agenda Meetings:
Regular business meetings are held the 1st Wednesday of the Month at the GOP HQ at 7pm
Monthly Saturday Breakfasts:
Every month the Ashtabula YR's host a social breakfast in different parts of the county on the 1st Saturday of each month.
Officers:
David Thomas– ACYR President
Jason Keeler – Vice-President
Christina Wilkinson – Secretary
Mark Stanford – Treasurer
Casey Kozlowski – Trustee
Our Philosophy: We believe in putting action to the values we proclaim! We don't want to just sit around and talk about great things, we want to go out and perform them. Now more than ever people are hurting and in need; our community, therefore, shows the effects. We care deeply for both and want to be the hands and feet of the Republican Party and express our great conservative values- for the people!
The ACYR's are committed to, and have a track record of, community service and volunteerism, helping those in need, and donating to community or other worthy causes.
—
Contact Us
Questions? Comments? Contact ACYR President David Thomas by email at thomas15david@gmail.com
Mission
The Ashtabula County Young Republicans are a group of ordinary, likeminded students, citizens and young professionals effecting extraordinary changes in our community.
Phone (440) 812-9022
Email thomas15david@gmail.com