Tony O's Supermarket Excellence in Measurement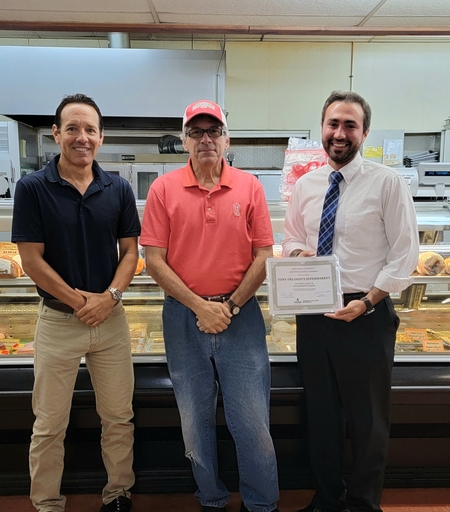 Auditor David Thomas Awards Tony Orlando's Supermarket Excellence in Measurement Award
North Kingsville- Ashtabula County Auditor David Thomas along with Auditor staff member Jim Varckette delivered a surprise to an Ashtabula County legend. Mr. Tony Orlando, owner and operator of Tony O's Supermarket, received the 2021 Excellence in Measurement Award from the Auditor's Office.
"Accuracy in measuring is more than just making sure your scales are correct, it is a commitment to best practice and quality with all service to the customers," said Auditor Thomas. "And Tony O's does that every day!"
Tony Orlando has owned and operated Orlando's Supermarket since 1999 when he purchased it from his father Sam Orlando. Sam opened Orlando's in 1965 along with his wife Emily. Those 56 years in operation makes the North Kingsville supermarket the oldest independent supermarket in Ashtabula County. Tony started as a young boy assisting his father in the store and learning the art of the trade.
"We do the best we can for the community. Our meats, wines, and selections are great," shared owner Tony Orlando. "We would love to have people in to try our products."
The Auditor's Excellence in Weights and Measures award recognizes the stations, companies, and local entities tested by the Auditor's Office which goes above and beyond in quality and service for weights and measures. The first recipient in 2019 was Mr. Robert Richcreek owner of Richcreek gas station in Pierpont and the second in 2020 was Mr. Joe Mezinger owner of Cherry Valley Processing.
Orlando's Supermarket is known for their high quality, low cost meats and wines in addition to their selection of homemade prepared foods and healthy ingredients. Orlando's also offers many homemade foods and breads in their deli and bakery; organic and natural foods, diabetic and gluten-free foods, and full-service catering.
The Weights & Measures Program managed by the Auditor's Office is responsible for testing and inspecting commercial weighing and measuring devices such as scales, gasoline pumps, scanners etc., the state assists in the testing and inspection of vehicle scales, fuel meters (fuel oil, gasoline and LP gas) and packaged consumer goods. Jim Varckette has served as the inspector for Ashtabula County for 30 years.
"Tony has always been great to work with when we check their scales, never any issues," explained Auditor staff member Jim Varckette. "In fact, he helped us several years ago with a packaging issue on butter that ended up changing the corporation's policy to benefit consumers."
"Jim does a tremendous job looking out for our residents and protecting their interests," stated Auditor Thomas. "A quality Weights & Measures Program saves the average household at least $300.00 per year." Ashtabula County has 1,366 Retail Motor Fuel Dispensers inspected yearly in addition to 401 Scales and 165 Establishments which are checked once a year by Jim Varckette.